Mario Kart 8 DLC Pack 2: Here We Go!
Mario Kart 8 DLC Pack 2 was released on April 23, 2015. The addition of Animal Crossing's Villager and Isabelle as well as Dry Bowser don't do much for me. Likewise, new karts have never been something I glamour for, often selecting the standard kart for every race. (I dig classic!) However, the new Crossing and Bell cups include some of the most gorgeous video game visuals I have come across, Nintendo game or otherwise.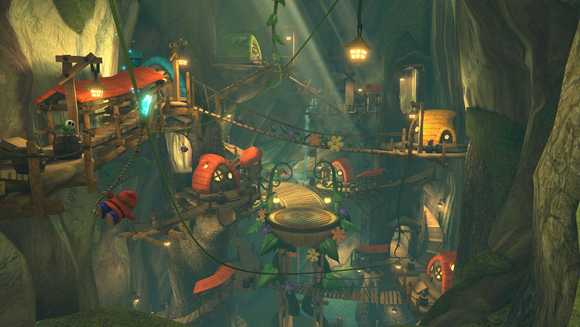 As I was racing through the new and original Wild Woods track, I was itching for Dry Bowser to hop out of his kart and explore. (I've experienced similar feelings racing through Shy Guy Falls, Dolphin Shoals, and Toad Harbor.) Likewise, the Animal Crossing track turns the traditionally isometric town into a truly inhabitable world.
A racing game feeling inhabitable speaks volumes.
A breathtaking "open-world" Legend of Zelda is a reality. Likewise, Nintendo has shown stellar execution of HD visuals in Mario Kart 8. This adds up to trigger a craving for the next iteration of 3D Mario games to be set in a seamless HD universe; freeing itself from stage selection and selective star quests and instead opting in for a connected Mushroom Kingdom.
This does not mean an "open-world" Mario game. I am no champion for open-world games. In fact, I often loathe them. I become distracted by side-quests and/or feel forced spend hours completing unnecessary tasks to progress the story or grow the game only to be forced to backtrack or fast-travel to previously completed areas. More and more I feel "open-world" means "lock-in", encouraging players to invest obscene amounts of time in a single game to the point where they are afraid or ashamed to give it up.
I would love to see the next iteration of 3D Mario games open up into semi-open, adventure style platformers à la Jak and Daxter. No overworld. No stage select. No "painting portals". Missions are discovered throughout the Mushroom Kingdom in lands akin to Thwomp Ruins, Cheep Cheep Beach, and Moo Moo Meadows, each gated by the traditional "star-requirement".
I previously posted some thoughts on Iterative vs. Redesigned Experiences:
Super Mario 64 could have just as easily been another side-scroller, albeit with better visuals. The Legend of Zelda: The Ocarina of Time could have been another top-down adventure. Donkey Kong 64 could have gone a number of pre-existing directions. Sure the Metroid series skipped the Nintendo 64 generation but Metroid Prime could have been another 2D platformer. The fact of the matter is that these titles reinvented their respective franchises. The worlds and characters we loved were shown in a new light and perspective. Sure, they are great games but they reinvented the way we thought about the franchises. This is what makes them so special.
More than just a great racing game, I believe Mario Kart 8 provides a glimpse at the future of the Mushroom Kingdom. Like Super Mario 64 dropped the "3D game design" mic, a fully connected Mushroom Kingdom could bring the 3D adventure-platformer back into the limelight and showcase exactly how it should have been done 15+ years ago.